Jamorama Review
Jamorama review verdict: Leading guitar course aimed at beginner to intermediate players.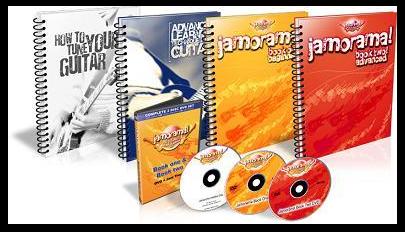 Visit Jamorama to learn more and see the discount offer.
The Jamorama guitar course was developed by guitarist Ben Edwards and is one of the leading guitar courses that are designed to take a player from being a beginner to developing a solid foundation in the guitar and being able to produce some really nice sounds. I consider this course the pick of guitar courses if you are a beginner. I would not recommend it to players who already have strong skills at the instrument and are looking for some more advanced material, but the combination of its price point ($39.95), the amount of material covered and the many useful bonuses included makes it a "must have" if you are starting out at the instrument.
What's Included in Jamorama

The course comes with a lot of material, including:
Beginner and intermediate books that contain graded lessons from the very basics of the instrument through to more intermediate chords and rhythm skills.
A wide array of video lessons, allowing you to clearly see and hear the techniques being illustrated. This is essential in the early stages of learning the guitar as imitation is one of the most important elements to learning an instrument.
26 jam tracks allowing you to practice with a backing. This is an important introduction to learning how to play with other musicians and in bands.
Additional bonuses that will help in ear training and reading music.
.
Some of the nice features of Jamorama are its emphasis to develop your playing with a backing, be it the included jam tracks or other musicians. This allows you to hear how your playing is sounding in context as well as to develop your timing and your ear while you do. Additionally, the ear training bonus will give you an additional start on developing your ear, which is certainly one of the foundations of mastering any musical instrument.
Jamorama comes with a 60 day unconditional money back guarantee. The end verdict of this jamorama review is that if you are just starting at the guitar or at a beginner level of experience, a combination of this course and regular practice will be a great step in developing your playing. I am also a believer that having a guitar teacher is of great benefit, but at the price of this course, being no more than maybe one half hour guitar lesson, it should provide a valuable addition to the lessons a teacher can teach you or a great introduction to see how you like the instrument before deciding to fork out the regular cash for weekly lessons.
Visit Jamorama to learn more and see the dicount offer.
ManicGuitar.com is an affiliate of Jamorama.