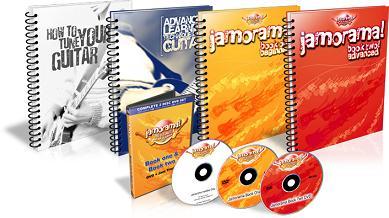 Jamorama is our top pick for people looking for a guitar course aimed at the beginner to intermediate player. It is considered our top pick due to the affordable price point as well as being the best course to take you from being a beginner to fast tracking some really nice sounds. Jamorama comes with over 12 months worth of lessons, over 140 video lessons and 26 jam tracks. One of the strong points of the course is its emphasis on developing your playing with a backing, be it other musicians or jam tracks, an essential component to effectively learning modern guitar styles.






Well Priced at $39.95 or $54.95 if Purchased with the Lead Guitar Course as Well (Recommended)

Aimed at Beginner to Intermediate Player

26 Backing Tracks Included

60 Day Unconditional Money Back Guarantee


Next Pick: Learn and Master Guitar

Leading Course Aimed at Beginner to Intermediate Players

Recommended for Students Wanting to Take Their Playing to the Next Level Learn and Master Guitar provides a more comprehensive course that will take your playing to a more advanced level. We have chosen this as our second pick due the course being more expensive than Jamorama. However, if you are looking for a more comprehensive course, this is the one. The course includes material on most popular styles from acoustic to rock, funk, blues and jazz. Additionally, there is a good coverage of both rhythm and lead guitar with basic to advanced chords as well as scales, electric lead guitar techniques and alot more.






Priced at $149 for the Expanded Edition (Recommended, Limited Time)

Includes More Comprehensive and Advanced Material

Includes 20 DVDs, 5 Jam-Along CDs and Printed Lessons

No Questions Asked 60 Day Money Back Guarantee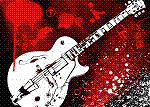 Leading Guitar Courses Reviewed

Here, Manic Guitar reviews a number of the leading guitar courses on the web of which we are fortunate to be an affiliate. Modern guitar courses now provide an excellent array of learning material and are able to integrate video, audio and written instruction. This now makes learning the guitar more accessible than ever before, allowing you to progress at your own pace in the comfort of your home without the expensive price tag of regular lessons with a teacher.  The selected courses are as follows:

Jamorama
is our pick of the leading course for beginner to intermediate players, needing a strong foundation in the basics of the instrument.
Visit Jamorama ..
Learn and Master Guitar
provides a more intensive course, able to take students to a higher level of mastery. This course is recommended if you are looking for a more comprehensive course that can take your playing to the next level.
Visit Learn and Master Guitar ...
We only review products that have a genuine money back guarantee and our review criteria is quite stringent with only leading products making the grade. Along with regular practice, investing in one of these online guitar courses is one of the best things you can do to develop a strong basis in the instrument.